Michael Jackson working on new disc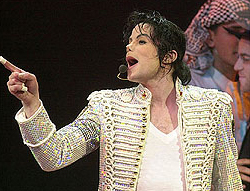 LONDON (AP) -- Michael Jackson has returned to the studio and plans to release a new album next year for a record label owned by the son of Bahrain's king.
2 Seas Records, which is owned by Sheik Abdulla bin Hamad Al Khalifa, said Tuesday it had signed an exclusive recording agreement with Jackson, and the new album was tentatively scheduled for release in late 2007.
Jackson, 47, moved to the Gulf state soon after being acquitted of child molestation charges in California last year. The 33-island archipelago is about the size of Rhode Island.
"I am incredibly excited about my new venture and I am enjoying being back in the studio making music," Jackson said in a statement released in London on behalf of the Bahrain-based record label.
The label -- which is due to release Jackson's long-promised Hurricane Katrina benefit single, "I Have This Dream" -- said British music executive Guy Holmes had been named chief executive of the company. It said Holmes would oversee the making of the new album "and the management of Michael's other business interests."
Jackson has been plagued by financial problems since his trial.
Last month, he closed the house on his 2,600-acre Neverland Ranch estate in California, laying off most of the staff after agreeing to pay hundreds of thousands of dollars in back wages to avoid a lawsuit by state labor officials.
Last week, he agreed to restructure his finances in a deal with Sony Corp., which shares ownership with Jackson of a valuable music catalog that includes the Beatles.
No details of that agreement were released, but earlier published reports said Jackson was negotiating a debt refinancing plan that would save him from bankruptcy but take away part of his share of the catalog.
Jackson's last studio album of new material was 2001's "Invincible." Several compilations have been released since.