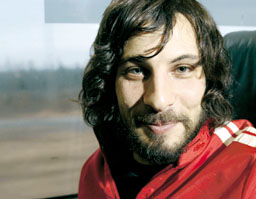 Sam Roberts' 'City' enters at No. 3
By JOHN WILLIAMS
Montreal rocker Sam Roberts made a noisy debut on the Canadian album charts this week.
Roberts' second full-length disc "Chemical City" checked in at No. 3 with sales of 10,000, according to figures compiled by Nielsen SoundScan.
It's his first new material since "We Were Born in a Flame," which entered the charts at No. 2 back in June of 2003.
Closer to the top, James Blunt's "Back To Bedlam" (13,000) was locked in at No. 1 for a third straight week, and Pink's fourth studio album "I'm Not Dead" (11,000) remained at No. 2 in its second week of release.
Michael Buble's "It's Time" moved down from No. 3 to No. 4, while Madonna's "Confessions on a Dancefloor" rebounded two positions to No. 5.
Ringtone sensation Crazy Frog climbed 8-6 with "Crazy Hits," Pierre Laponte's "La Foret Des Mal Aimes" dropped two notches to No. 7, and Rascal Flatts' "Me and My Gang" sank from 4-8.
Tim McGraw's "Greatest Hits" fell down to No. 9, and Jack Johnson's "Curious George" soundtrack re-entered the top 10 at No. 10.
Other debuts in the top 50 included Toby Keith's "White Trash With Money" at No. 11, Jeff Martin's "Exile and the Kingdom" at No. 20, LL Cool J's "Todd Smith" at No. 40, Moneen's "The Red Tree" at No. 40, Buckcherry's "15" at No. 43, and Joe Dassin's "Eternal" at No. 49.